Product Description
FCL Couplings Information

Application Field
Mixer, brewing machinery, centrifugal blower, centrifugal compressor, transport machinery, centrifugal fan and pump, generator sewage treatment equipment, clay processing machinery, crane, washing machines, woodworking machinery, machine tool, rotary grinding machine, paper mill machinery, the spinning jenny, reciprocating transports, crushing machine, shake conveyor, rubber machinery (equipped with mixed refine sensor and grinding machine, reciprocating compressor). Commonly used in air compressor machine.
 
FCL-90
FCL-100
FCL-112
FCL-125
FCL-140
FCL-160
FCL-180
FCL-200
FCL-224
FCL-250
FCL-280
FCL-315
FCL-355
FCL-400
FCL-450
FCL-560
FCL-630
FCL-710B
FCL-711B
FCL-800B
About CZPT since 1984
HangZhou Melchizedek Import & Export Co., Ltd. is a leader manufactur in mechanism field and punching/stamp
ing field since 1984. Our main product, NMRV worm gear speed reducer and series helical gearbox, XDR,
XDF, XDK, XDShave reached the advanced technique index of the congeneric European and Janpanese produc
ts, We offer standard gears, sprockets, chains, pulleys, couplings, bushes and so on. We also can accept orders
of  non-standard products, such as gears, shafts, punching parts ect, according to customers' Drawings or sam-
ples. 
Our company has complete set of equipment including CNC, lathes, milling machines, gear hobbing machine, g-
ear grinding machine, gear honing machine, gear shaping machine, worm grinder, grinding machines, drilling m-
achines, boringmachines, planer, drawing benches, punches, hydraulic presses, plate shearing machines and s-
o on. We have advanced testing equipments also. 
Our company has established favorable cooperation relationships with sub-suppliers involving casting, raw mat-
erial, heat treatment, surface finishing and so on.
| | |
| --- | --- |
| Standard Or Nonstandard: | Standard |
| Shaft Hole: | 19-32 |
| Torque: | >80N.M |
| Bore Diameter: | 19mm |
| Speed: | 4000r/M |
| Structure: | Flexible |
Customization:

Available

|

Customized Request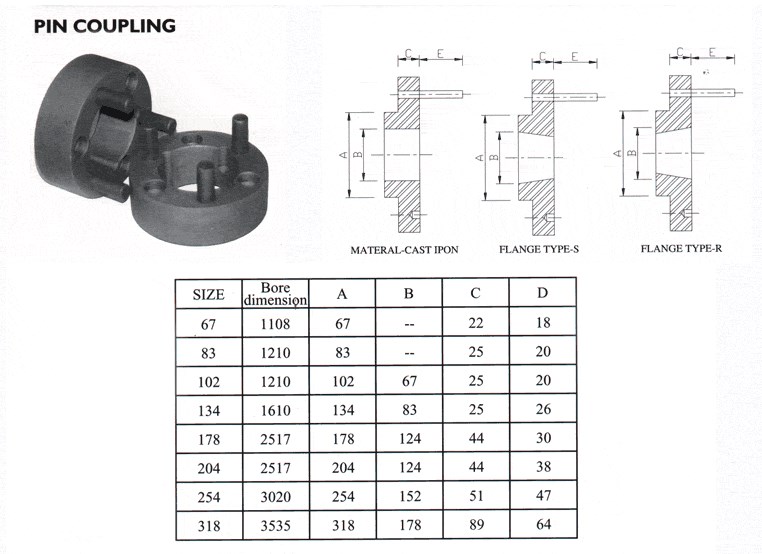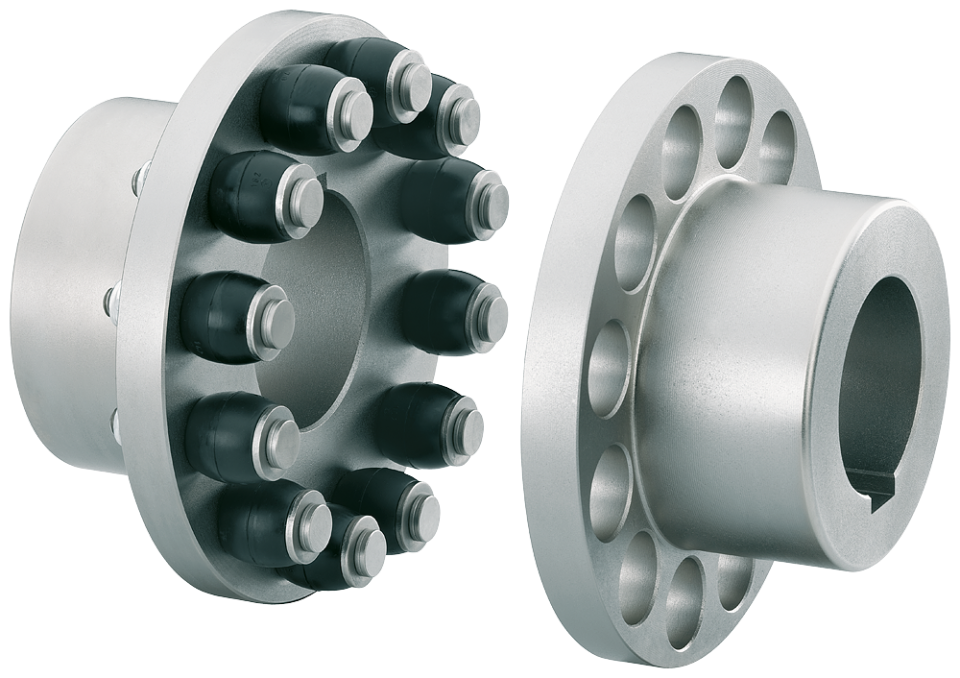 Can Pin Couplings Be Used in Both Horizontal and Vertical Shaft Arrangements?
Yes, pin couplings can be used in both horizontal and vertical shaft arrangements. These couplings are designed to accommodate angular misalignment, parallel misalignment, and axial movement, making them versatile for various shaft orientations.
In horizontal shaft arrangements, where the shafts are aligned on the same horizontal plane, pin couplings can efficiently transmit torque while allowing for flexibility to accommodate minor misalignments and shaft movements. The pins and flexible elements in the coupling enable angular displacement and radial flexibility, ensuring smooth power transmission even if the shafts are not perfectly aligned.
In vertical shaft arrangements, where the shafts are aligned on a vertical plane, pin couplings can also be used effectively. The coupling design allows for axial movement, which is crucial in vertical applications where the shafts may experience expansion or contraction due to thermal changes or other factors. The flexible nature of pin couplings allows them to handle these axial movements without compromising the coupling's performance.
Whether in horizontal or vertical arrangements, pin couplings are commonly used in various industrial applications, including pumps, compressors, conveyors, and other rotating machinery. They are known for their simplicity, ease of installation, and ability to provide reliable power transmission while accommodating misalignment and shaft movement.
When using pin couplings in either arrangement, it is essential to ensure proper alignment and regular maintenance to maximize their performance and service life. Additionally, considering factors like torque requirements, operating conditions, and environmental considerations will help in selecting the appropriate pin coupling for a specific application.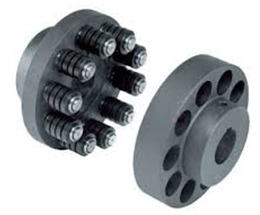 Role of Pin Coupling in Reducing Downtime and Maintenance Costs
A pin coupling plays a crucial role in reducing downtime and maintenance costs in various mechanical systems and power transmission applications. Its design and features contribute to improved reliability and ease of maintenance, resulting in enhanced operational efficiency and cost savings. Here's how pin couplings achieve these benefits:
1. Shock Absorption: Pin couplings are known for their ability to absorb and dampen shocks and vibrations generated during operation. By cushioning the impact of sudden loads or torque spikes, they protect the connected equipment from potential damage, reducing the frequency of unexpected breakdowns and downtime.
2. Misalignment Tolerance: Pin couplings can tolerate a certain degree of misalignment between shafts, such as angular and parallel misalignment. This flexibility allows for easier installation and alignment of equipment, saving time and effort during setup and reducing the need for precise alignment procedures.
3. Low Maintenance: Pin couplings are designed with simplicity in mind, often consisting of only two coupling halves connected by pins. This straightforward construction means fewer components that can wear out or require regular maintenance. Additionally, the flexibility of the pins helps reduce wear on the coupling and connected equipment, leading to longer maintenance intervals.
4. Easy Replacement: In the event of a failure or wear, pin couplings are relatively easy to replace compared to some other coupling types. The simplicity of their design allows for quick disassembly and reassembly, minimizing downtime during maintenance or replacement procedures.
5. Cost-Effective: The combination of low maintenance requirements and reduced downtime translates into cost savings for businesses. With fewer unexpected breakdowns and lower maintenance expenses, the overall cost of ownership for systems employing pin couplings can be more economical.
6. Reliability: Pin couplings are known for their reliability and durability. When properly selected and installed, they can provide long service life without frequent replacements, contributing to stable and consistent system performance.
By minimizing downtime, maintenance efforts, and associated costs, pin couplings are a preferred choice in various industrial applications. However, it is crucial to ensure that the pin coupling is correctly sized and installed, and regular inspections and maintenance are conducted to maximize its benefits and prevent premature failure.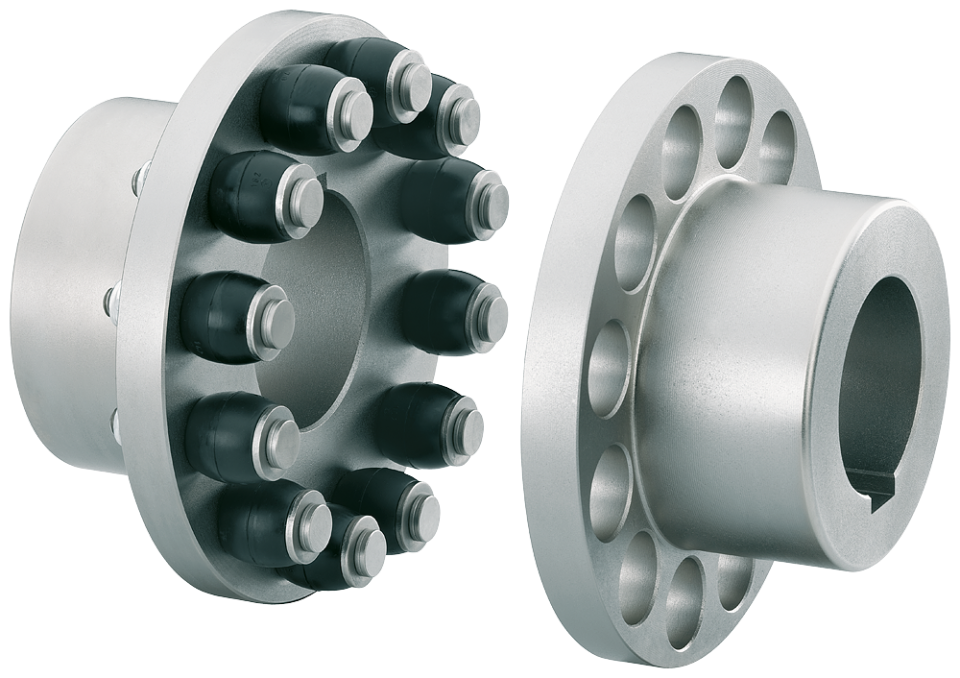 Limitations and Disadvantages of Using Pin Couplings
While pin couplings offer various advantages and are suitable for many applications, they also have some limitations and disadvantages to consider:
Misalignment Restrictions: Pin couplings can accommodate a certain degree of misalignment, but excessive misalignment can lead to increased wear and stress on the coupling components. They are not as effective at handling large angular or parallel misalignments compared to other flexible couplings like gear or elastomeric couplings.
Less Damping Capacity: Pin couplings have limited damping capacity, which means they may not effectively absorb and reduce vibrations in the system. In applications where vibration damping is critical, elastomeric or flexible couplings may be more suitable.
Noisy Operation: The rigid nature of pin couplings can lead to increased noise during operation, especially at high speeds or in applications with significant misalignment. This noise can be a concern in environments where noise levels need to be minimized.
Higher Maintenance: Compared to maintenance-free couplings like certain types of elastomeric couplings, pin couplings may require more frequent inspection and maintenance. The pins and other components may experience wear over time and need replacement.
Environmental Limitations: Some pin couplings may not be suitable for use in corrosive or high-temperature environments, depending on the materials used. Stainless steel or other corrosion-resistant materials can help mitigate this limitation.
Size and Weight: In certain applications, the size and weight of pin couplings may be larger and heavier compared to other types of couplings. This can be a consideration in applications where weight is a concern or space is limited.
Despite these limitations, pin couplings remain a popular choice for many applications where their advantages, such as simplicity, durability, and cost-effectiveness, outweigh their disadvantages. It is crucial to carefully assess the specific requirements of the application and consider factors like misalignment, vibration, maintenance needs, and environmental conditions when selecting a coupling type.



editor by CX 2023-09-01