Product Description
Frame scaffolding coupling pin :
 
1. Coupling pin and spring clip is made of 35mm tubes and 41.27mm collar, used to connect frame scaffolds, with spring clip to lock.
2. Material: Q235
3. Surface finish: Electro galvanized
4. Package: bags and pallet
5. A full mason frame scaffod set is composed of 2 frames, 2 cross braces, 4 levelling base jacks, and 4 coupling pins (connectors)
6. Your design can be produced,too
 
| | |
| --- | --- |
| Type | Frame scaffolding coupling pin |
| Material |  Q235  |
| Color | Silver or required |
| Surface Treatment | Electro galvanized, etc. |
| Advantages | Top quality, Competitive price, Timely delivery, Good Service, Standard package, |
| Minimum order | 1 piece |
| Supply ability | 20 containers/ month |
| Port | HangZhou |
| Currency | USD, RMB |
| Payment | L/C, T/T, 30% in advance |
| Package | Bags and Pallet |
| Delivery | according to quantities to be needed |
Here all ranges of frame scaffolding are supplied and exported: mason frame, shoring frame, walkthrough frame, box frame, A frame, galvanized cross brace, coupling pins and spring clips, screw jacks, base plates, guard rails, all types of locks and pins. Accessories which are used for manufacturing can be supplied, too.
Order of mixed items can be accepted. OEM service is available. Contact us for latest prices.
Scaffolding coupling pins and spring clips
| | |
| --- | --- |
| Material: | Steel |
| Type: | Fixed |
| Structural Style: | Multi-Pole Scaffolding |
| Framework: | Combined Scaffolding |
| Supporting Mode: | Projecting Scaffolding |
| Lapping Form: | Full Scaffolding |
Samples:

US$ 0/Piece

1 Piece(Min.Order)

|
Request Sample
Customization:

Available

|

Customized Request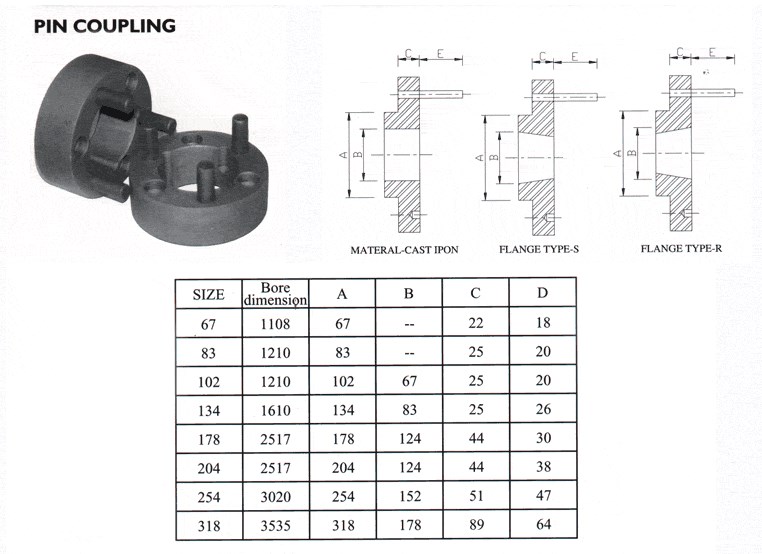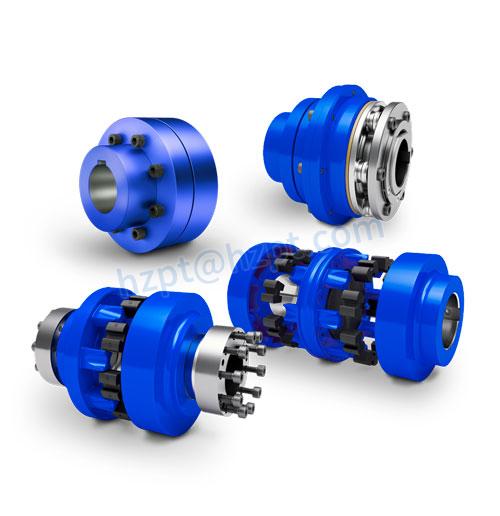 Can Pin Couplings Accommodate High Torque and High-Speed Applications?
Pin couplings are versatile and robust, making them suitable for a wide range of applications, including those involving high torque and high-speed requirements. However, the specific design and construction of the pin coupling will determine its capacity to handle such demanding conditions.
The ability of a pin coupling to accommodate high torque depends on factors such as the material used, the size and number of pins, and the overall design. High-quality pin couplings are often made from strong and durable materials like alloy steel, which allows them to withstand significant torque loads without failure or deformation.
Similarly, the capability of a pin coupling to handle high speeds depends on factors such as the balance of the coupling and the precise manufacturing of the pins and hubs. Properly balanced pin couplings can operate at higher speeds without generating excessive vibration or causing premature wear.
When selecting a pin coupling for high torque and high-speed applications, it is essential to consider the following:
Design and Construction: Opt for pin couplings with a robust and well-engineered design to handle the expected torque and speed requirements.
Material: Choose pin couplings made from high-quality materials known for their strength and fatigue resistance.
Size: Select an appropriate size of pin coupling that can accommodate the torque and speed expected in the application.
Manufacturer's Ratings: Refer to the manufacturer's specifications and torque-speed curves to ensure the coupling meets the desired performance criteria.
By carefully considering these factors and choosing a pin coupling designed for high torque and high-speed applications, you can ensure reliable and efficient power transmission in demanding industrial settings.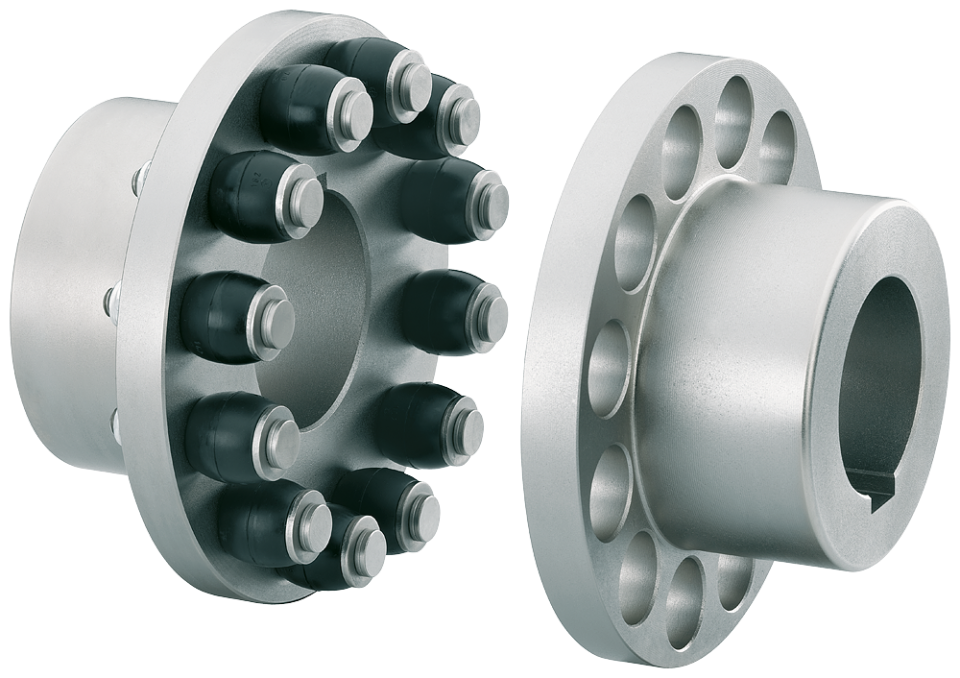 Can Pin Couplings Be Used for Both Motor-to-Shaft and Shaft-to-Shaft Connections?
Yes, pin couplings can be used for both motor-to-shaft and shaft-to-shaft connections in various mechanical systems. The versatile design of pin couplings allows them to connect two shafts with aligned or misaligned centers, making them suitable for a wide range of applications.
Motor-to-Shaft Connections: In motor-driven systems, pin couplings are commonly used to connect the motor shaft to the driven shaft of the equipment. The motor can be an electric motor, combustion engine, or any other type of power source. The pin coupling efficiently transfers torque from the motor shaft to the equipment's driven shaft, enabling power transmission and mechanical motion.
Shaft-to-Shaft Connections: Pin couplings are also well-suited for shaft-to-shaft connections, where two separate shafts need to be joined together. This could be the case when extending the length of a shaft or connecting two separate pieces of rotating equipment. The pin coupling provides a secure and flexible connection between the two shafts, allowing torque to be transmitted between them while accommodating misalignment.
It is essential to consider the specific requirements of the application when selecting a pin coupling. Factors such as the amount of misalignment, torque capacity, operating conditions, and space constraints should be taken into account to ensure the coupling can effectively and reliably connect the motor and shafts.
Overall, the versatility and performance of pin couplings make them a popular choice for both motor-to-shaft and shaft-to-shaft connections in various industrial and mechanical systems.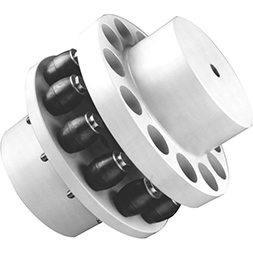 Types of Pin Coupling Designs
Pin couplings, also known as shear pin couplings, come in various designs to suit different application requirements. The main types of pin coupling designs are as follows:
1. Single Pin Coupling: In this design, a single shear pin is used to connect the two shafts. The pin is placed in a hole that runs through both coupling halves. Under excessive torque or shock loads, the pin shears off, disconnecting the shafts and protecting the equipment from damage. Single pin couplings are commonly used in light to moderate-duty applications.
2. Double Pin Coupling: Double pin couplings use two shear pins that are positioned 180 degrees apart. This design provides increased torque capacity and improved balance compared to the single pin design. Double pin couplings are suitable for applications with higher torque requirements.
3. Triangular Pin Coupling: Triangular pin couplings use three pins arranged in a triangular pattern around the circumference of the coupling. This design offers even higher torque capacity and improved torsional stiffness. Triangular pin couplings are ideal for heavy-duty applications where higher torque and misalignment tolerance are essential.
4. Splined Pin Coupling: Splined pin couplings use splines instead of solid pins to transmit torque between the shafts. The splines provide a more secure connection and better torque transmission compared to solid pins. Splined pin couplings are commonly used in precision motion control applications.
5. Taper Pin Coupling: Taper pin couplings use tapered pins that wedge tightly into matching tapered holes in the coupling halves. This design offers excellent torque transmission and alignment capabilities. Taper pin couplings are often used in heavy machinery and power transmission systems.
Each type of pin coupling design has its advantages and limitations, and the selection depends on factors such as the application's torque requirements, misalignment tolerance, and environmental conditions. It is essential to choose the right type of pin coupling to ensure optimal performance, reliability, and safety in the mechanical system.



editor by CX 2023-08-31