Product Description
Aluminum Polypropylene Pin Lug Coupling Fire Hose Coupling
Quick connect camlock couplings fittings are the economical, convenient and simple way to transfer liquids and dry products. available in a wide of range of materials and sizes to suit most applications ( Such as: In Petrochemical Industries, Fertilizers, Atomic Energy, Power Plants, Industrial & Hydraulic products serving the oil & gas industries, chemical industries, steel plants, mining industries, oil refinery industries ect.)
Application: For suction and discharge hose coupling.
Material: The Pin Lug Couplings have Polypropylene shanks with Polypropylene swivel nuts and NPSM thread, NST(Fire Hose Thread)
Size: 1-1/2″ to 6″
Seal: NBR, EPDM
Our Advantage
We are experienced as we have been in this industry as a manufacturer for more than 10 years. Both of quality and service are highly guaranteed. Absolutely prompt delivery. We can produce according to specific drawings from customers. Welcome OEM/ODM project. Strict control on quality. High efficient and well trained sale service team.  ISO9001, CE and SGS certified.
FAQ
1.Q: Are you a producer or trading company?
A: We are an experienced manufacturer. We own production line and kinds of machines.  
2. Can you make our specific logo on the part?
Yes please provide me your logo and we will make your logo on the part.
3. Can you manufacture products according to my drawings?
Yes we can manufacturer according to client's drawings if drawings or samples are available. We are experienced enough to make new tools.
4. Q: Can I get some samples?
A: We are honored to offer you our samples. Normally it is for free like 3-5 pcs. It is charged if the samples are more than 5 pcs. Clients bear the freight cost.
5. Q: How many days do you need to finish an order?
A: Normally it takes about 30 days to finish the order. It takes more time around CZPT season, or if the order involves many kinds of different products.  
6. what kind of rubber washer do you apply to camlock couplings?
Normally we use NBR gasket.
product-list-1.html
| | |
| --- | --- |
| Certification: | CE, SGS, ISO9001 |
| Surface Treatment: | Sandcasting Surface |
| Material: | Aluminum,Polypropylene |
| Body Material: | Polypropylene/Aluminum |
| Nut Material: | Polypropylene/Aluminum |
| Production Method: | Forgged, Casting |
Samples:

US$ 0.88/Piece

1 Piece(Min.Order)

|
Request Sample
Customization:

Available

|

Customized Request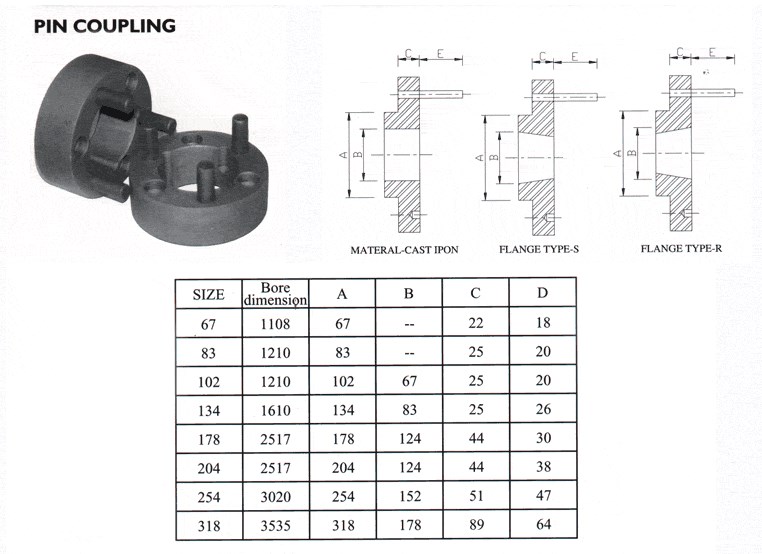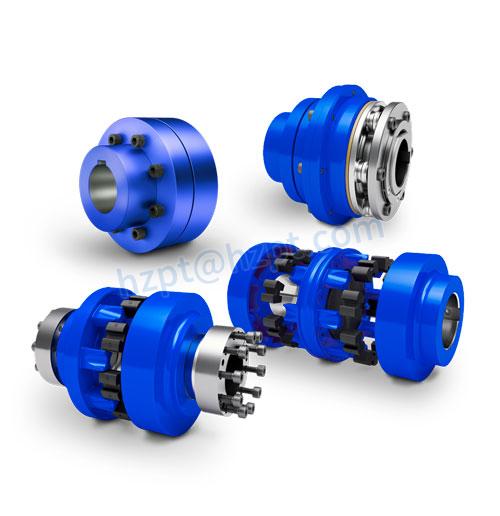 Can Pin Couplings Accommodate High Torque and High-Speed Applications?
Pin couplings are versatile and robust, making them suitable for a wide range of applications, including those involving high torque and high-speed requirements. However, the specific design and construction of the pin coupling will determine its capacity to handle such demanding conditions.
The ability of a pin coupling to accommodate high torque depends on factors such as the material used, the size and number of pins, and the overall design. High-quality pin couplings are often made from strong and durable materials like alloy steel, which allows them to withstand significant torque loads without failure or deformation.
Similarly, the capability of a pin coupling to handle high speeds depends on factors such as the balance of the coupling and the precise manufacturing of the pins and hubs. Properly balanced pin couplings can operate at higher speeds without generating excessive vibration or causing premature wear.
When selecting a pin coupling for high torque and high-speed applications, it is essential to consider the following:
Design and Construction: Opt for pin couplings with a robust and well-engineered design to handle the expected torque and speed requirements.
Material: Choose pin couplings made from high-quality materials known for their strength and fatigue resistance.
Size: Select an appropriate size of pin coupling that can accommodate the torque and speed expected in the application.
Manufacturer's Ratings: Refer to the manufacturer's specifications and torque-speed curves to ensure the coupling meets the desired performance criteria.
By carefully considering these factors and choosing a pin coupling designed for high torque and high-speed applications, you can ensure reliable and efficient power transmission in demanding industrial settings.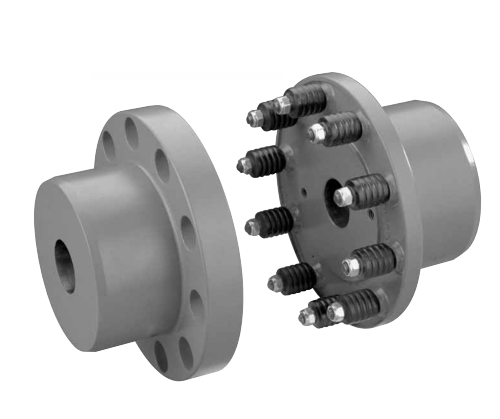 What Industries Commonly Use Pin Couplings for Power Transmission?
Pin couplings are widely used in various industries for power transmission due to their ability to accommodate misalignment and provide reliable torque transmission. Some of the industries where pin couplings are commonly employed include:
1. Manufacturing: In manufacturing processes, pin couplings are used in conveyor systems, mixers, agitators, and other machinery to transfer power between motors and driven equipment.
2. Pulp and Paper: The pulp and paper industry uses pin couplings in machinery such as pumps, fans, and rotary kilns for continuous power transmission.
3. Chemical and Petrochemical: Pin couplings find applications in chemical processing plants, refineries, and petrochemical facilities for various rotating equipment.
4. Water and Wastewater: Pin couplings are used in water treatment facilities, pumps, and blowers to transfer power efficiently.
5. Steel and Metal Processing: Steel mills and metal processing plants utilize pin couplings in rolling mills, extruders, and other equipment.
6. Food and Beverage: Pin couplings are employed in food processing machinery, packaging equipment, and conveyor systems.
7. Mining and Quarrying: The mining industry uses pin couplings in crushers, conveyor belts, and various mineral processing equipment.
8. Oil and Gas: Pin couplings are used in the oil and gas sector for pumps, compressors, and drilling equipment.
9. Power Generation: In power plants, pin couplings are used in turbines, generators, and other power transmission systems.
10. Construction and Heavy Equipment: Pin couplings find applications in construction machinery, earthmoving equipment, and other heavy-duty machinery.
11. Agriculture: In agricultural machinery, pin couplings are used in tractors, irrigation systems, and grain processing equipment.
These are just some examples of the industries where pin couplings are commonly used. Pin couplings offer versatility, ease of installation, and reliability, making them suitable for a wide range of applications in different sectors where power transmission is essential.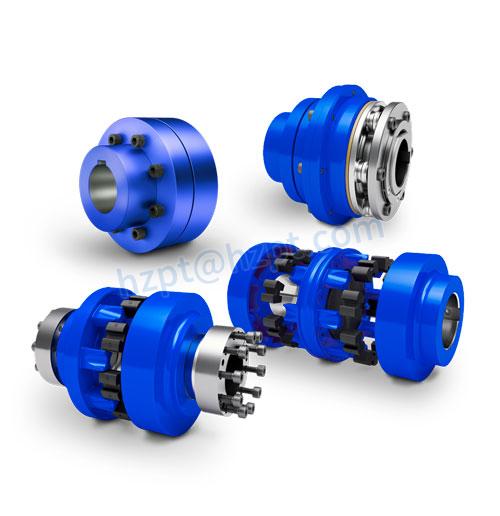 Advantages of Using Pin Couplings in Mechanical Systems
Pin couplings, also known as shear pin couplings, offer several advantages when used in mechanical systems. These advantages make them a popular choice for various industrial applications:
1. Overload Protection: Pin couplings are designed to provide overload protection to connected equipment. In case of excessive torque or sudden shock loads, the sacrificial pins will shear off, preventing damage to the shafts and other components.
2. Misalignment Tolerance: Pin couplings can accommodate a limited amount of angular misalignment between the shafts. This helps to compensate for minor misalignments and reduces the stress on the connected equipment.
3. Cost-Effective: The shear pins used in pin couplings are relatively inexpensive compared to other coupling components. In the event of a failure, replacing the damaged pins is a cost-effective solution, avoiding more significant repairs to the main equipment.
4. Easy Replacement: After shearing, the damaged pins can be quickly and easily replaced. This leads to reduced downtime and lower maintenance costs in the long run.
5. Versatility: Pin couplings are suitable for a wide range of applications, including pumps, compressors, fans, and other industrial machinery. Their ability to handle varying operating conditions makes them versatile in different environments.
6. Shock Load Absorption: Pin couplings can absorb and dissipate shock loads effectively. The shear pins act as a buffer, protecting the equipment from sudden impacts or overloads.
Despite their numerous advantages, it is essential to consider the limitations of pin couplings as well. They have lower torque capacities compared to some other coupling types, such as gear couplings or rigid couplings. Additionally, the need to replace shear pins after each failure may lead to more frequent maintenance requirements in applications with frequent overloads or misalignments.
In conclusion, pin couplings provide reliable torque transmission and safety features, making them a valuable component in various mechanical systems. Their ability to protect against overloads and accommodate misalignments makes them a practical choice in a wide range of industrial applications.



editor by CX 2023-08-14