Product Description
Densen customized pin bush coupling,flexible coupling,elastic dowel pin shaft coupling
We have professionals to solve your questions, please contact us directly!
| | |
| --- | --- |
| Product Name | Densen customized pin bush coupling,flexible coupling,elastic dowel pin shaft coupling |
| DN mm | 12~850mm |
| Rated Torque | 100~2500000 N·m |
| Allowable speed | 4000~460 kN·m |
| Material | 45#steel |
| Application | Widely used in metallurgy, mining, engineering and other fields. |
Product show
Company Information
Equipment
Application Case
Typical case of diaphragm coupling applied to variable frequency speed control equipment
JMB type coupling is applied to HangZhou Oilfield Thermal Power Plant
According to the requirements of HangZhou Electric Power Corporation, HangZhou Oilfield Thermal Power Plant should dynamically adjust the power generation according to the load of the power grid and market demand, and carry out the transformation of the frequency converter and the suction fan. The motor was originally a 1600KW, 730RPM non-frequency variable speed motor matched by HangZhou Motor Factory. The speed control mode after changing the frequency is manual control. Press the button speed to increase 10RPM or drop 10RPM. The coupling is still the original elastic decoupling coupling, and the elastic de-coupling coupling after frequency conversion is frequently damaged, which directly affects the normal power generation.
It is found through analysis that in the process of frequency conversion speed regulation, the pin of the coupling can not bear the inertia of the speed regulation process (the diameter of the fan impeller is 3.3 meters) and is cut off, which has great damage to the motor and the fan.
Later, they switched to the JMB460 double-diaphragm wheel-type coupling of our factory (patent number: ZL.99246247.9). After 1 hour of destructive experiment and more than 1 year of operation test, the equipment is running very well, and there is no Replace the diaphragm. 12 units have been rebuilt and the operation is in good condition.
Other Application Case
Spare parts
Packaging & Shipping
Contact us
| | |
| --- | --- |
| Standard Or Nonstandard: | Standard |
| Structure: | Pin Coupling |
| Material: | Steel |
| Type: | Customized |
| Color: | Customized |
| Transport Package: | Standard Export Wooden Box |
Samples:

US$ 20/Piece

1 Piece(Min.Order)

|
Request Sample
Customization:

Available

|

Customized Request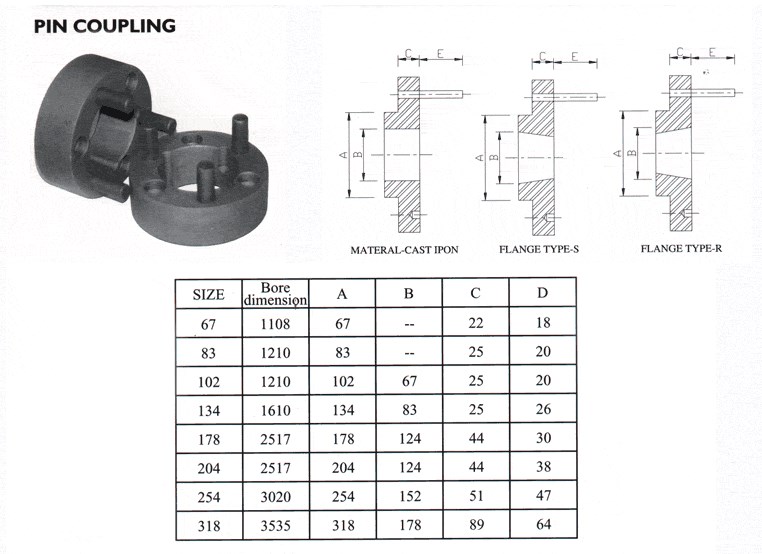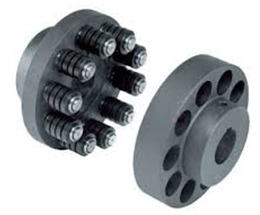 What Are the Maintenance Requirements for Pin Couplings?
Pin couplings are known for their simplicity and ease of maintenance. Regular maintenance helps ensure the longevity and optimal performance of pin couplings in various mechanical systems. Here are the key maintenance requirements for pin couplings:
Lubrication: Most pin couplings require periodic lubrication to reduce friction between the pins and the coupling hubs. Lubrication helps prevent wear and corrosion, ensuring smooth operation.
Inspection: Regular visual inspections are essential to identify any signs of wear, misalignment, or damage. Inspecting the pins, coupling hubs, and surrounding components can help detect potential issues early on.
Torque Check: It is crucial to periodically check and retighten the bolts or screws that secure the coupling to the shafts. Loose fasteners can lead to misalignment and coupling failure.
Alignment: Proper shaft alignment is critical for the effective functioning of pin couplings. Regularly check and adjust the alignment if necessary to minimize wear and vibrations.
Environmental Protection: In harsh environments or corrosive conditions, take measures to protect the pin coupling from contaminants or chemicals that could cause damage.
Replacement of Worn Components: When any of the coupling components, such as pins or hubs, show signs of significant wear, they should be replaced promptly to prevent further damage.
It is important to follow the manufacturer's maintenance guidelines and recommendations for the specific type of pin coupling used in the application. Regular maintenance not only ensures the smooth operation of the coupling but also helps prevent unexpected breakdowns and reduces the risk of costly downtime. Proper maintenance can extend the service life of pin couplings and contribute to the overall reliability of the connected equipment.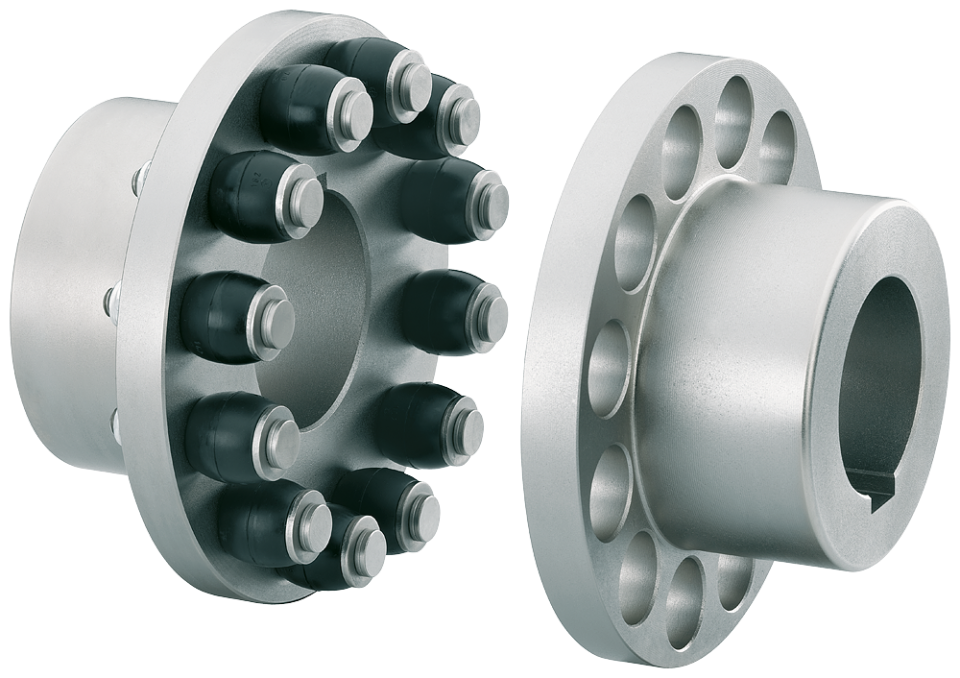 Can Pin Couplings Be Used for Both Motor-to-Shaft and Shaft-to-Shaft Connections?
Yes, pin couplings can be used for both motor-to-shaft and shaft-to-shaft connections in various mechanical systems. The versatile design of pin couplings allows them to connect two shafts with aligned or misaligned centers, making them suitable for a wide range of applications.
Motor-to-Shaft Connections: In motor-driven systems, pin couplings are commonly used to connect the motor shaft to the driven shaft of the equipment. The motor can be an electric motor, combustion engine, or any other type of power source. The pin coupling efficiently transfers torque from the motor shaft to the equipment's driven shaft, enabling power transmission and mechanical motion.
Shaft-to-Shaft Connections: Pin couplings are also well-suited for shaft-to-shaft connections, where two separate shafts need to be joined together. This could be the case when extending the length of a shaft or connecting two separate pieces of rotating equipment. The pin coupling provides a secure and flexible connection between the two shafts, allowing torque to be transmitted between them while accommodating misalignment.
It is essential to consider the specific requirements of the application when selecting a pin coupling. Factors such as the amount of misalignment, torque capacity, operating conditions, and space constraints should be taken into account to ensure the coupling can effectively and reliably connect the motor and shafts.
Overall, the versatility and performance of pin couplings make them a popular choice for both motor-to-shaft and shaft-to-shaft connections in various industrial and mechanical systems.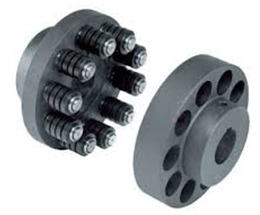 Understanding Pin Couplings and Their Functionality
A pin coupling, also known as a shear pin coupling, is a type of mechanical coupling used to connect two rotating shafts in a mechanical system. It is designed to transmit torque while allowing for a limited amount of angular misalignment between the shafts. The primary function of a pin coupling is to protect the connected equipment from torque overload and prevent damage to the shafts and other components in case of sudden shock or overload.
How a Pin Coupling Works:
A typical pin coupling consists of two hubs, one on each shaft to be connected, and a series of pins that pass through the hubs to join them together. The pins are usually made of a softer material than the hubs, such as brass or aluminum, to act as sacrificial elements. The number and size of the pins depend on the coupling's torque rating and the required angular misalignment capacity.
When the shafts are misaligned, the pins experience shear stress as they bend under the applied load. In normal operating conditions, the pins remain intact and allow the torque to transfer from one shaft to another. However, in the event of an overload or excessive misalignment, the pins will shear off, preventing the transmission of excessive torque and protecting the connected equipment from damage.
After shearing, the damaged pins can be easily replaced, and the coupling can be put back into service without major repairs to the equipment. This feature makes pin couplings particularly suitable for applications with varying operating conditions and environments where shock loads or sudden overloads may occur.
Advantages of Pin Couplings:
– Protection against Overload: The shear pins act as a safety feature, protecting the connected equipment from excessive torque and sudden shocks.
– Misalignment Tolerance: Pin couplings can accommodate a limited amount of angular misalignment between the shafts.
– Easy Replacement: After shearing, the damaged pins can be quickly replaced, reducing downtime and maintenance costs.
– Versatility: Suitable for a wide range of applications, including pumps, compressors, and other industrial machinery.
– Cost-Effective: The sacrificial pins are cost-effective components that can be easily replaced, avoiding costly repairs to the main equipment.
Limitations:
– Pin couplings have lower torque capacities compared to some other coupling types, such as gear couplings or rigid couplings.
– The need to replace the shear pins after each failure may lead to frequent maintenance requirements in applications with frequent overloads or misalignments.
In summary, pin couplings offer a reliable and cost-effective solution for torque transmission and protection against overloads in various mechanical systems. Their ability to accommodate misalignment and absorb shock loads makes them suitable for a wide range of industrial applications.



editor by CX 2023-09-04