Product Description
235 32K Excavator Coupling Machine Parts Track Pin Press Flexible Coupling 
Basic information:
Model: 235 32K
Used on:Excavator, Air Compressor, Marine Machine
Packing: Plastic Bag, Carton
Coupling Type: Coupling Inserts
Material: Rubber, Iron
Payment Methods: Bank Transfer, Western Union, Money Gram, Credit
Coupling Structure: Helical Coupling
Supply Ability: 3000PCS Per Week
After-sales Service: Online Support
Coupling Structure: Helical Coupling
 
Products Parts:
| | | | |
| --- | --- | --- | --- |
| Pos. | Part No | Qty | Parts name |
| 1. | 9K-3115 | [1] | HEAD |
| 2. | 3P-1388 |   | LOCKWIRE 7.62 dm(30 in.) |
| 3. | 2B-2955 | [4] | BOLT |
| 4. | 5K-1787 | [1] | SEAL |
| 5. | 7J-3322 | [1] | SEAL |
| 6. | 9K-3307 | [1] | PISTON |
| 7. | 9K-3304 | [1] | SEAL |
| 8. | 9K-9716 | [1] | HOUSING |
| 9. | 8S-2332 | [4] | BOLT |
| 10. | 9K-3148 | [1] | SHAFT |
| 11. | 8K-0507 | [4] | DISC |
| 12. | 8K-0509 | [5] | PLATE |
| 13. | 9M-5571 | [1] | SEAL |
| 14. | 9K-9715 | [1] | ADAPTER ASSEM. |
| 15. | 4D-0672 | [2] | DOWEL |
| 16. | 5J-2383 | [1] | SEAL |
| 17. | 8K-0508 | [2] | SPRING |
| 18. | 8K-571 | [2] | RETAINER |
| 19. | 1D-4623 | [4] | BOLT |
|   | 5H-1504 | [4] | WASHER |
| 20. | 9K-3145 | [4] | BOLT |
| 21. | 9K-3305 | [1] | WASHER |
| 22. | 6B-3645 | [1] | SNAP RING |
| 23. | 4F-8824 | [1] | SEAL |
| 24. | 8K-2004 | [1] | SHAFT |
 About us:
specialized in:
couplings, rubber mounts, gera parts, hydraulic seals and seal kits for hydraulic hammers, rock breakers, hydraulic excavators,wheel loaders, and JCB badkhoe loaders.
And, Our company also supply:
Engine parts, hydraulic piston pump and hydraulic travel motor, Swing motor assembly and hydraulic component parts, electric parts, etc. Hydraulic hammer breaker parts with piston, cylinder, chisel, through bolt, side bolt, top bush, front head bushing,accumlator, valve, etc.
We always try our best for all our customers and make it better and better. Welcome!
Products Show:
FAQ
| | |
| --- | --- |
| After-sales Service: | Online Support |
| Warranty: | Six Months |
| Type: | Coupling |
| Application: | Excavator |
| Certification: | CE |
| Condition: | New |
Customization:

Available

|

Customized Request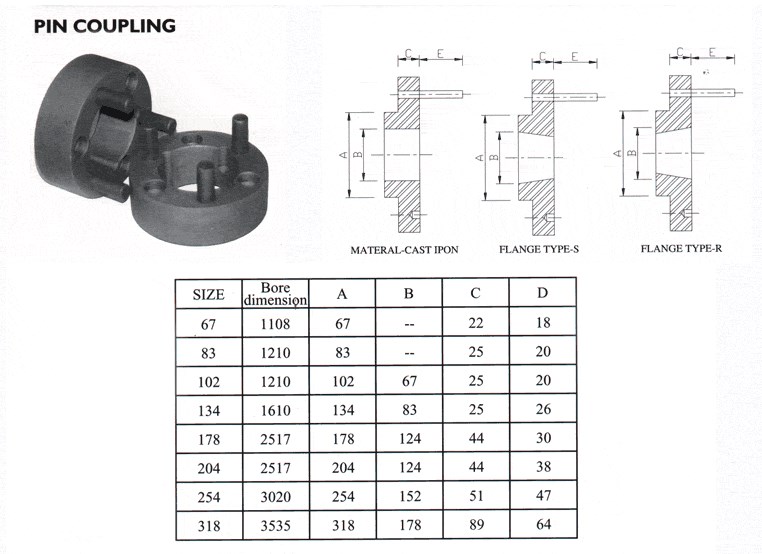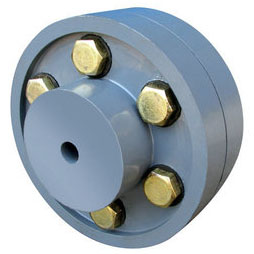 How Do Pin Couplings Compare to Other Types of Couplings in Terms of Performance?
Pin couplings offer certain advantages and disadvantages compared to other types of couplings, and their performance characteristics can vary depending on the specific application requirements. Below is a comparison of pin couplings with some commonly used couplings:
1. Gear Couplings:
Flexibility: Gear couplings are more rigid than pin couplings and may not offer the same level of misalignment capacity.
Torsional Stiffness: Gear couplings provide higher torsional stiffness, making them suitable for applications requiring precise torque transmission.
Shock Absorption: Gear couplings can handle higher shock loads due to their robust design and greater stiffness.
Maintenance: Gear couplings may require periodic lubrication and maintenance compared to maintenance-free pin couplings.
Applications: Gear couplings are commonly used in heavy-duty and high-torque applications where precise torque transmission is essential.
2. Flexible (Elastomeric) Couplings:
Flexibility: Elastomeric couplings offer higher misalignment capacity than pin couplings and can handle angular, parallel, and axial misalignment.
Shock Absorption: Elastomeric couplings provide excellent shock absorption, damping vibrations, and protecting connected equipment.
Torsional Stiffness: Elastomeric couplings have lower torsional stiffness compared to pin couplings, making them more forgiving in high shock load applications.
Installation: Elastomeric couplings are easy to install and require no lubrication, making them maintenance-free.
Applications: Elastomeric couplings are commonly used in pumps, compressors, and other machinery where vibration isolation is crucial.
3. Rigid Couplings:
Torsional Stiffness: Rigid couplings provide high torsional stiffness, ensuring accurate torque transmission.
Misalignment Capacity: Rigid couplings have little to no misalignment capacity and require precise shaft alignment.
Applications: Rigid couplings are used in applications where precise alignment is essential, such as shaft-to-shaft connections in high-precision systems.
Conclusion:
Pin couplings strike a balance between flexibility and torsional stiffness, making them suitable for applications with moderate misalignment and shock loads. They are often used in general industrial applications, conveyors, and light to medium-duty machinery.
When selecting a coupling for a specific application, it is crucial to consider factors such as misalignment requirements, shock and vibration loads, torsional stiffness, maintenance needs, and the level of precision required. Each coupling type has its strengths and weaknesses, and the appropriate choice will depend on the specific demands of the application.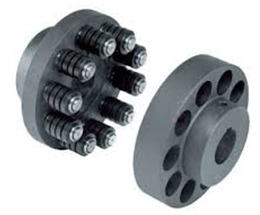 Role of Pin Coupling in Reducing Downtime and Maintenance Costs
A pin coupling plays a crucial role in reducing downtime and maintenance costs in various mechanical systems and power transmission applications. Its design and features contribute to improved reliability and ease of maintenance, resulting in enhanced operational efficiency and cost savings. Here's how pin couplings achieve these benefits:
1. Shock Absorption: Pin couplings are known for their ability to absorb and dampen shocks and vibrations generated during operation. By cushioning the impact of sudden loads or torque spikes, they protect the connected equipment from potential damage, reducing the frequency of unexpected breakdowns and downtime.
2. Misalignment Tolerance: Pin couplings can tolerate a certain degree of misalignment between shafts, such as angular and parallel misalignment. This flexibility allows for easier installation and alignment of equipment, saving time and effort during setup and reducing the need for precise alignment procedures.
3. Low Maintenance: Pin couplings are designed with simplicity in mind, often consisting of only two coupling halves connected by pins. This straightforward construction means fewer components that can wear out or require regular maintenance. Additionally, the flexibility of the pins helps reduce wear on the coupling and connected equipment, leading to longer maintenance intervals.
4. Easy Replacement: In the event of a failure or wear, pin couplings are relatively easy to replace compared to some other coupling types. The simplicity of their design allows for quick disassembly and reassembly, minimizing downtime during maintenance or replacement procedures.
5. Cost-Effective: The combination of low maintenance requirements and reduced downtime translates into cost savings for businesses. With fewer unexpected breakdowns and lower maintenance expenses, the overall cost of ownership for systems employing pin couplings can be more economical.
6. Reliability: Pin couplings are known for their reliability and durability. When properly selected and installed, they can provide long service life without frequent replacements, contributing to stable and consistent system performance.
By minimizing downtime, maintenance efforts, and associated costs, pin couplings are a preferred choice in various industrial applications. However, it is crucial to ensure that the pin coupling is correctly sized and installed, and regular inspections and maintenance are conducted to maximize its benefits and prevent premature failure.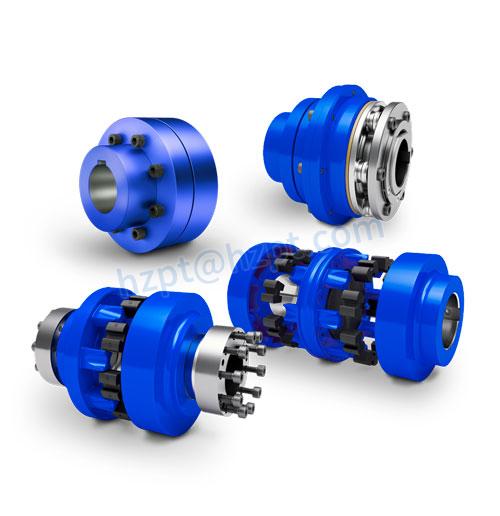 Advantages of Using Pin Couplings in Mechanical Systems
Pin couplings, also known as shear pin couplings, offer several advantages when used in mechanical systems. These advantages make them a popular choice for various industrial applications:
1. Overload Protection: Pin couplings are designed to provide overload protection to connected equipment. In case of excessive torque or sudden shock loads, the sacrificial pins will shear off, preventing damage to the shafts and other components.
2. Misalignment Tolerance: Pin couplings can accommodate a limited amount of angular misalignment between the shafts. This helps to compensate for minor misalignments and reduces the stress on the connected equipment.
3. Cost-Effective: The shear pins used in pin couplings are relatively inexpensive compared to other coupling components. In the event of a failure, replacing the damaged pins is a cost-effective solution, avoiding more significant repairs to the main equipment.
4. Easy Replacement: After shearing, the damaged pins can be quickly and easily replaced. This leads to reduced downtime and lower maintenance costs in the long run.
5. Versatility: Pin couplings are suitable for a wide range of applications, including pumps, compressors, fans, and other industrial machinery. Their ability to handle varying operating conditions makes them versatile in different environments.
6. Shock Load Absorption: Pin couplings can absorb and dissipate shock loads effectively. The shear pins act as a buffer, protecting the equipment from sudden impacts or overloads.
Despite their numerous advantages, it is essential to consider the limitations of pin couplings as well. They have lower torque capacities compared to some other coupling types, such as gear couplings or rigid couplings. Additionally, the need to replace shear pins after each failure may lead to more frequent maintenance requirements in applications with frequent overloads or misalignments.
In conclusion, pin couplings provide reliable torque transmission and safety features, making them a valuable component in various mechanical systems. Their ability to protect against overloads and accommodate misalignments makes them a practical choice in a wide range of industrial applications.



editor by CX 2023-08-18